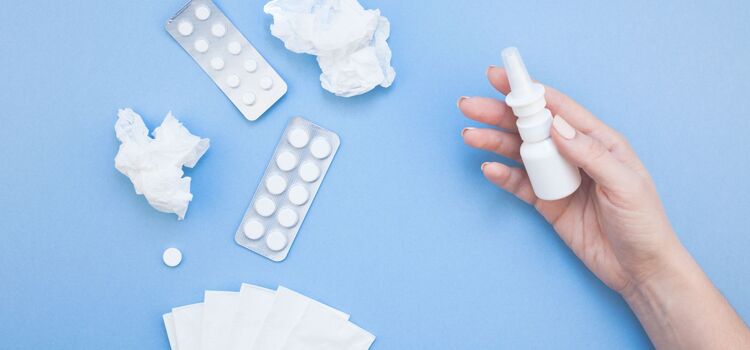 You may have noticed that you sneeze and cough more often during certain times of the year. In this case, you may have seasonal allergies. Seasonal allergies are allergy symptoms that occur during specific times of the year, typically when allergens are released into the air.

About Seasonal Allergies
Spring, summer and fall are the most common times of year for allergy season, according to the American College of Allergy, Asthma, and Immunology. What triggers someone's seasonal allergies depends on what they're allergic to and where they live.
Common plants that may trigger seasonal allergies by producing pollen and mold include:
Ragweed
Burning bush
Cocklebur
Pigweed
Mugwort
Tumbleweed
The plants that spread pollen and mold in your area may vary. It can be helpful to research what plants are native to your area to know what may affect your allergies.
Seasonal Allergy Symptoms
Every person is sensitive to different allergens at varying levels. Many factors can influence the severity of symptoms, such as pollen levels, humidity, time of day, wind and rainfall. You may be experiencing symptoms of seasonal allergies if you notice the following:
Congestion and sinus pressure
Cough
Fatigue
Headache
Itchy throat, nose and eyes
These symptoms can happen during any peak allergy season. If you struggle with seasonal allergies, there are ways to manage them.
How to Manage Seasonal Allergies
You can reduce your exposure to seasonal allergens as well as the impact they have on your body. To manage seasonal allergies, try the following:
Keep track of pollen and mold counts. Seasonal pollen and mold counts can be found online or on local news channels. Monitoring pollen and mold counts can help you know when to avoid spending excessive time outside, which can help manage the severity of your allergy symptoms.
Shower after spending time outdoors. After playing or working outdoors, pollen may be stuck to your clothes, hair and skin, which can cause irritation. Showering and putting on a clean change of clothes can ensure you're not spreading any allergens around your home that could trigger symptoms throughout the day.
Keep windows and doors of your home closed during peak allergy seasons. This will help prevent allergens from entering your home and sticking to items such as furniture and carpet, which can all cause more frequent allergy symptoms.

Visit a doctor. Visiting your doctor or an allergist can help determine what you're allergic to. Your doctor may prescribe medications to help control symptoms.
Try over-the-counter medications. While some medications require prescriptions, there are over-the-counter options available to help treat seasonal allergies. It's important to always talk to your doctor before taking new medications.
While seasonal allergies are common, they don't have to be something you suffer through, especially long-term. Therefore, if you're experiencing seasonal allergies or have a history of seasonal allergy symptoms, it may be time to seek help.
For further information, contact your primary care provider.
This article is for informational purposes only and is not intended as medical advice. For further information, please consult a medical professional. © 2023 Zywave, Inc. All rights reserved.